Captain's Blog
Critter Notices
[It's Freebie Friday in the
Critters Store
...]
How to Write SF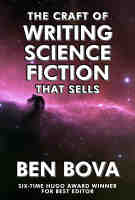 The Craft of Writing Science Fiction that Sells by Ben Bova, best-selling author and six-time Hugo Award winner for Best Editor. (This is one of the books your ol' Critter Captain learned from himself, and I highly recommend it.) (Also via Amazon)
Critters Server is Dying has been Replaced
See important details here in my blog. Let me know if you find anything that isn't working right. (Manuscripts are now available for this week, FYI.)
Book Recommendation
THE SIGIL TRILOGY: The universe is dying from within... "Great stuff... Really enjoyed it." — SFWA Grandmaster Michael Moorcock
Announcing ReAnimus Press
If you need help making ebooks from manuscripts or print copies—or finding great stuff to read—look no further! An ebook publisher started by your very own Critter Captain. (And with a 12% Affiliate program.) [More]
~~~
FEATURED BOOK
~~~
Woo-hoo!
My unscientific estimate is that members of Critters are around 10X more likely to make sales than non-critters (but cause and effect? who knows?). Regardless, this page is to celebrate our successes!
Critter Robert Qualkinbush has analyzed the reports below and created a summary page of how many sales Critters have had. Fascinating, and astounding! Good going to you all.
If you have something to report, tell me immediately!
Then see the NewNewForum.com to read about and announce new projects (in writing, tech, or any other field). Free ads on the Critters site are also provided as a benefit of membership.
Congratulations to...
Carl Slaughter, who reports "Diabolical Plots has posted my interview with Odyssey founder and director Jeanne Cavelos. [URL] [Dec 2013]
Fred Obermeyer, whose (Critter'd) short story, "The IUD that Landed in Grandpa's Backyard" is now out in the current issue of Electric Spec. [Dec 2013]
Fred Obermeyer, who sold his (Critter'd) short story, "The Value of Silence" to Allegory. [Dec 2013]
Irene Ying, whose (Critter'd) short story, "And Now, A Message From A Future Sponsor Of This Fine Publication" is now out in the current issue of Eggplant Productions: Miscellanea. {This is my first published piece! (If you go looking, you will find that it is published under the name Kara Lee, my pseud!) This would never have happened without the amazing feedback I got from Critters. Thank you all! } [Nov 2013]
Greg Kurzawa, who sold his (Critter'd) short story, "Predvestniki" to Interzone. {Thank you to everyone who helped with this one, but most especially to those who worked with me on the Russian language bits. } [Nov 2013]
Ian Creasey, who sold his (Critter'd) short story, "An Exercise in Motivation"" to Analog. {This was critiqued in November 2012: my thanks to the commenters. } [Nov 2013]
Sue Kesler, whose (Critter'd) novel, "My Partner Jakup the Jay" is now out from Jupiter Gardens Press. [Nov 2013]
Carl Slaughter, who reports "Diabolical Plots posted my interview with Analog editor Trevor Quachri at [URL] [Nov 2013]
Margaret Ernsberger, who reports "I uploaded a Crittered novel to the Kindle Store and in less than a month I have already had several sales. Not much to start with but SOMEBODY ACTUALLY BOUGHT MY BOOK! It was Crittered some years ago by three Dedicated Readers and it was much the better for it when I was done with a re-write.". {I know uploading to the Kindle Store doesn't constitute sales but I wanted to announce this because I have gotten some sales of my novel in less than a month. I give a lot of credit to Critters for my book being the quality it is because some Dedicated Readers took the time to read and critique it several years ago and they did an excellent job. I would recommend Critters to anyone who wants a good critique of their work. Captain, you created a wonderful thing! } [Nov 2013]
Karl Bunker, whose (Critter'd) short story, "This Quiet Dust" is now out in the current issue of Analog magazine. {My first sale to this market. Thanks to those who helped out with Critterly comments! } [Nov 2013]
Michael Andre-Driussi, whose (Critter'd) short story, "Mad Dogs Raid Mars" is now out in the current issue of Perihelion Science Fiction. {Thanks to all hard working critters who commented on this story. Hail to you! } [Nov 2013]
Sean Green (writing as S. R. Algernon), who sold his short story, "Planetary Defences" to Nature. {Thanks everyone for all your critiques! } [Nov 2013]
Fred Obermeyer, who sold his (Critter'd) short story, "The IUD that Landed in Grandpa's Backyard" to Electric Spec. {Thanks for your help on the story. } [Nov 2013]
Jennifer Johnson, who sold her short story, "Catch of the Day" to SQ Mag. [Nov 2013]
John Frye, whose short story, "Racing Prejudice" is now out in the current issue of Analog Science Fiction and Fact. {My first published story, and in my dream market too! "Racing Prejudice" was not crittered, but greatly benefited from general writing advice, and even more so from all the experience of critiquing other stories that I then applied to my own through some substantial rewrites and condensation. Thanks to critters for all the help and support! } [Oct 2013]
Carl Slaughter, who reports "My interview with Kevin Anderson is up at Diabolical Plots. Coming soon are interviews with Trevor Quachri of Analog, Lou Anders of Pyr, and Jeanne Cavelos of Odyssey.". {http://www.diabolicalplots.com/?p=3815 } [Oct 2013]
Fiona Howland-Rose (Writing as Fi Michell), who sold her (Critter'd) short story, "The Debt Collector" to The New Gothic anthology, published by Stone Skin Press. {Thank you to all who critiqued this for me. The final version was substantially revised. The result is my first professional sale. } [Oct 2013]
James Beamon, who sold his (Critter'd) short story, "The Light Crusader's Dark Dessert" to Intergalactic Medicine Show. {This one official pros me out of Writers of the Future, but what a way to go! Thanks to everyone that provided input to make this a winning story. } [Oct 2013]
Kit Power, who sold his (Critter'd) short story, "The Loving Husband and the Faithful Wife" to Black Beacon Press. {This novella was Crittered via the 'Mystery and Thrillers' workshop. Thanks to all who fed back - you made my story stronger. } [Oct 2013]
Antha Ann Adkins, whose (Critter'd) short story, "Have You Looked in a Mirror Lately?" is now out in the current issue of Goldfish Grimm's Spicy Fiction Sushi. {Thanks for your critiques! } [Oct 2013]
Brian Burt, who reports "I just found out that my (Crittered) debut novel, "Aquarius Rising: In the Tears of God" has been named a finalist in the science fiction category for the 2014 EPIC eBook awards. Thanks again to the folks who provided valuable feedback for the sample chapters!". [Oct 2013]
Greg Kurzawa, who sold his (Critter'd) short story, "Once More to Kitty Hawk" to Intergalactic Medicine Show. {This went through the queue as "Transitions." Thanks to everyone who helped! } [Oct 2013]
Sean Green (writing as S. R. Algernon), who sold his short story, "A Dispatch from an Otherwise Unremarkable Planet" to Mad Scientist Journal. {I think this is a story that writers will relate to. Thanks again to everyone who's critiqued my stories! } [Oct 2013]
Carl Slaughter, who reports "Diabolical Plots posted my interviews with Critters members Ken Liu and Tom Greene.". {http://www.diabolicalplots.com/?p=3767 http://www.diabolicalplots.com/?p=3768 } [Oct 2013]
Richard Zwicker, whose (Critter'd) short story, "The Void Gambit" is now out in the current issue of Plasma Frequency Magazine. [Oct 2013]
Michael Andre-Driussi, whose (Critter'd) short story, "Fallout 1979" is now out in the current issue of Plasma Frequency: Year One Anthology. {This anthology is currently available at Amazon.com. Thanks again to all the critters who responded to my story. All Hail Critters Writers Workshop! } [Oct 2013]
Sean Green (writing as S. R. Algernon), who sold his (Critter'd) short story, "Meme Hunter" to Ether World (a Diabolic Publications anthology). {Although this piece was not crittered, thanks to everyone who's helped with my other stories! } [Oct 2013]
Antha Ann Adkins, who sold her (Critter'd) short story, "Have You Looked in a Mirror Lately" to Goldfish Grimm's Spicy Fiction Sushi. {Thanks so much for all your help! } [Sep 2013]
Abra Staffin-Wiebe, who sold her short story, "Belongings" to DRP Canine Rescue Anthology. {This dark spec-fic anthology benefits canine rescue--you can help with their fund-raising over at www.indiegogo.com/projects/dragon-s-roost-press-anthology-benefiting-canine-rescue . } [Sep 2013]
Robert William Shmigelsky, whose (Critter'd) short story, "The Prince That Time Forgot" is now out in the current issue of Jukepop Serials. {Thanks for the help, I've learned a lot since I first joined Critters. Everyone can check it out here: http://www.jukepopserials.com/home/read/1093 } [Sep 2013]
Sean Green (writing as S. R. Algernon), who sold his short story, "Another Man's Engineering" to Cast of Wonders. {This one may wind up appearing with another title if Robert Heinlein's rightsholders object to my using the quote as my title. Thanks, everyone, for all the help. } [Sep 2013]
Irene Ying, who sold her (Critter'd) short story, "And Now, A Message From A Future Sponsor Of This Fine Publication" to Eggplant Productions - Miscellanea. {The piece was originally titled 'The Singularity Will Not Be Single-Payer', and I got lots of great feedback from Critters! Thanks so much to everyone who helped me! } [Sep 2013]
Hank Quene, who reports " Hank Quense reports his book Marketing Plans for Self-published Books is now available from Strange Worlds Publishing. Strangeworldsonline.com This is the second of four books planned for his Self-publishing Guides series. The next two are Self-publishing a Book and Business Basics for Authors.". [Sep 2013]
Lloyd Vancil, whose (Critter'd) book, "A Suite of Four (Four shorts)" is now out in the current issue of Amazon.com. [Sep 2013]
Lloyd Vancil, whose short story, "Suffer the Children A Wind World Chronicle" is now out in the current issue of Amazon.com. [Sep 2013]
Carl Slaughter, who reports "Diabolical Plots has posted my second interview with Mike Resnick. In the second interview, Mike talks about his 2 latest projects, Stellar Guild and Galaxy's Edge. The next interview is with Ken Liu. Lou Anders of Pyr, Trevor Quachri of Analog, Jeanne Cavelos of Odyssey, and franchise writer Kevin Anderson are coming soon..". [Sep 2013]
Stephen B. Pearl, whose (Critter'd) novel, "War of the Worlds 2030" is now out from Damnation Books. [Sep 2013]
Kyla Phillips, who has won the Critique My Novel award for her (Critter'd) novel, "Contracted Servant". {The first three chapters won second place. Thank you for all the wonderful help critters. } [Sep 2013]
Michael Andre-Driussi, whose (Critter'd) short story, "Aliens With Candy" is now out in the current issue of Perihelion SF. [Sep 2013]
M. Morrow, who sold her (Critter'd) short story, "Highest Possible Setting" to Daily Science Fiction. {This is my first. It was crittered under the name Paranoid Setting. And my Nom de Guerre it will be published under is Em Dupre. } [Sep 2013]
Sean Green (writing as S. R. Algernon), who sold his short story, "Followers" to Daily Science Fiction. {Even though this story was not crittered, thanks to everybody who has critiqued my other stories and chapters! } [Sep 2013]
Greg Kurzawa, whose (Critter'd) short story, "Dark Gardens" is now out in the current issue of Interzone #248. [Sep 2013]
Dwayne Minton, whose short story, "The Schrodinger War" is now out in the current issue of Lightspeed Magazine. {Thanks to everyone here who has help me over the years. } [Sep 2013]
Carl Grafe, whose short story, "Effects of Subcranial Electrode Implantation on Neurological Function: Insights from a Case Study" is now out in the current issue of Mad Scientist Journal. {Not crittered, but I wouldn't have known the magazine existed if others hadn't posted about it here. It's a pretty cool idea, and they were great to work with, so give them a look: http://madscientistjournal.org/. } [Aug 2013]
Tom Greene, who sold his short story, "Another Man's Treasure" to Analog. {Even though this specific story wasn't crittered, many thanks to everyone on critters who helped me improve. } [Aug 2013]
Sarah Gibbel, who sold her (Critter'd) short story, "McMurder, McBurger" to The Last Diner. {My story has been accepted! Thanks to everyone who critiqued it when it appeared under the title "McMurder." It will appear in an anthology called "The Last Diner," which will be published by Fringeworks and comes out on October 27th. Special thanks to fellow Critter Russ Adams for bringing this anthology to my attention! } [Aug 2013]
Antha Ann Adkins, who sold her (Critter'd) short story, "Rigel's Missing Tail" to Stupefying Stories. {Thanks so much to all the critters who helped me both take this one up a level and cut it down to short story length. Y'all are the greatest! } [Aug 2013]
Richard Zwicker, who sold his (Critter'd) short story, "A Bolt for Semele" to A Big Book of Strange, Weird, and Wonderful. [Aug 2013]
Adrian V. Diglio, whose (Critter'd) short story, "The Ravenous Flock" is now out in the current issue of Myths Inscribed ezine. {This short story spanned two issues as the first part was published in March 2013. Now, the epic conclusion of The Ravenous Flock (a prelude to my novel The Soul Smith) can be read here: http://ezine.mythicscribes.com/?p=633. For more information about my world, check out http://adriandiglio.com } [Aug 2013]
Robert William Shmigelsky, whose short story, "Beacon of Light" is now out in the current issue of Jukepop Serials. {Adrianna watched her daring captain lead a gallant charge across the frozen white plains of Endeleas. Two hundred temporal knights raced alongside his regal mount—hooves tossing up a thousand glittering specks of snow and ice. He grasped the looped hilt of his long sword; the blade stood out, a radiant streak of light from polished crystal reflecting off the distant sun. The glow emanating from the righteousness of his cause only strengthened it, and the coalescing of lights served to illuminate him in his gold plate. https://www.jukepopserials.com/home/read/907 Top 30 voted stories win cash rewards. Appreciated any critter support. } [Aug 2013]
Dwayne Minton, whose short story, "Portraits from the Shadow" is now out in the current issue of InterGalactic Medicine Show. [Aug 2013]
Dwayne Minton, who sold his short story, "Another Universe" to Stupefying Stories. {This one didn't go through Critters, but benefitted from what I learned here. Thanks everyone. } [Aug 2013]
Shiv Ramdas, who sold his (Critter'd) novel, "Domechild" to Penguin India. {I'd put the first chapter of Domechild up to be crittered in 2011 (It was called Judgment Day back then. I doubt anything would have come of it, except for all the encouragement and advice I received from all the wonderful people here at critters. The feedback really showed me what I needed to be doing/focusing on with the story, gave me a far better understanding of it's weaknesses, and above all, the confidence to keep at it. Without them, there probably wouldn't be any reason to write this woohoo today, either. So I'd just like to say thank you to all the wonderful people who took the time out to read my story and share their thoughts with me. And of course, to you Andrew, for making it all possible. This website is a truly magical place. Great things happen here- now I've seen it for myself. } [Aug 2013]
Richard Zwicker, who sold his (Critter'd) short story, "The Void Gambit" to Plasma Frequency Magazine. [Jul 2013]
Eleanor Wood, whose short story, "Rift" is now out in the current issue of Plasma Frequency. {Although this piece wasn't Crittered, it benefited greatly from all the stuff I've gleaned here over the years. You can download a free copy here: http://www.plasmafrequencymag.com/issue7.html } [Jul 2013]
Greg Kurzawa, who sold his (Critter'd) short story, "Dark Gardens" to Interzone. {Many thanks to those who helped with this one. } [Jul 2013]
Abra Staffin-Wiebe, whose (Critter'd) short story, "The Miracle Material" is now out in the current issue of Eulogies II: Tales From the Cellar anthology. {Thanks all for the crits that made this story good! Jack Ketchum says: "good...fresh, diverse, vibrant voices." Get your horror fix here: www.amazon.com/Eulogies-II-Tales-From-Cellar/dp/0979234654 } [Jul 2013]
Sean Green (writing as S. R. Algernon), who sold his (Critter'd) short story, "Unperished" to Blood Type: An Anthology of Vampire SF on the Cutting Edge. {Thanks to everyone who helped with this story! According to the anthology website, net proceeds from this anthology go to the Cystic Fibrosis Trust, so it is nice to contribute to a good cause. } [Jul 2013]
Fiona Howland-Rose (Writing as Fi Michell), who sold her (Critter'd) short story, "Communion" to Stupefying Stories. {This story went through Critters as 'Starfish'. Thank you to everyone who gave me feedback - it was invaluable. } [Jul 2013]
Fred Obermeyer, who sold his (Critter'd) short story, "Potential Killer" to Perihelion Magazine. {This is one of my favorite stories and I'm glad to finally find a home for it after more than four years and several rejections. Thanks to the Critters who helped me on the story and gave me encouragement. If you believe in a story, keep sending it out and don't give up. } [Jul 2013]
Ian Creasey, who sold his (Critter'd) short story, "Ormonde and Chase" to Asimov's. {My thanks to those who commented on this story a few months ago. } [Jul 2013]
Louise Spencer, who sold his (Critter'd) short story, "Couple Modifications" to Song Story Press: Song Stories Dark Side of the Moon. {available August 15th 2013. } [Jul 2013]
Greg Kurzawa, who sold his (Critter'd) short story, "Shepherds" to Clarkesworld. {This one went through the queue as "Begetting Adam." Many thanks to the crowd that helped with it. } [Jul 2013]
Giulietta M. Spudich, whose (Critter'd) novel, "Fireheart" is now out from Books To Go Now. {A girl chained to a dragon faces a storm which will alter the course of her life ... Thanks to Critters for help in polishing my YA fantasy novel Fireheart which is now out on Amazon for Kindle! http://www.amazon.com/Fireheart-ebook/dp/B00DJDM0SA On the first page, you'll find a little thanks to this writer's community. } [Jul 2013]
Fiona Howland-Rose (Writing as Fi Michell), who sold her (Critter'd) short story, "Attila's Throne" to Big Pulp. {Thanks to everyone who gave me feedback! } [Jul 2013]
Merideth Grue, whose (Critter'd) short story, "On the Path" is now out in the current issue of Bewildering Stories. {Available August 12, 2013. } [Jul 2013]
Thomas Champion, who sold his novel, "The Far Side of the Shadow Screen" to Amazon's Kindle Book Store. [Jul 2013]
Thomas Champion, who sold his novel, "The Desert Surfer" to Amazon's Kindle Book Store. [Jul 2013]
Richard Zwicker, whose (Critter'd) short story, "Doll's House Darkness" is now out in the current issue of On the Premises. [Jul 2013]
Karl Bunker, who sold his (Critter'd) short story, "350 K In My Shades" to Stupefying Stories. {It took a while to find a home for this one, though it got some nice rejections along the way. Thanks to the critters who helped out with their comments! } [Jul 2013]
H. Schofield, who sold her (Critter'd) short story, "Touring Test" to AE: The Canadian Science Fiction Review. {Thanks to everyone who Crittered this back in 2011! You will see it soon on AE: The Canadian Science Fiction Review at http://aescifi.ca/ } [Jul 2013]
Stacey Nilsen, who sold her (Critter'd) short story, "The Souls of Sacrifice and Love" to TM Publishers Magazine. [Jul 2013]
Stacey Nilsen, who sold her (Critter'd) short story, "That Murderous Thieving Bastard and His Wretched Beanstalk" to Fringeworks, Grimm and Grimmer Anthology Vol 3. [Jul 2013]
Hank Quense, who reports "Hank Quense and Strange Worlds Publishing have released Manage Your Self-publishing Project. The book contains a series of flow charts and mind-maps on publishing and marketing a self-published book. Go to Strangeworldsonline.com for more information.". [Jun 2013]
Karl Bunker, who sold his (Critter'd) short story, "This Quiet Dust" to Analog. {Thanks to my critiquers for their constructive comments! } [Jun 2013]
Kary English, who sold her (Critter'd) short story, "Flight of the Kikayon" to Grantville Gazette: Universe Annex. {The story also took a Q4 finalist spot in Writers of the Future, though it did not win. Many thanks to those who read and/or critiqued! } [Jun 2013]
Richard Zwicker, who sold his (Critter'd) short story, "T-Vision" to Kzine. [Jun 2013]
Richard Zwicker, who sold his (Critter'd) short story, "Doll's House Darkness" to On the Premises. [Jun 2013]
Richard Zwicker, whose (Critter'd) short story, "Day of the Endorphin" is now out in the current issue of Eric's Hysterics. [Jun 2013]
Holly Schofield, who sold her (Critter'd) short story, "Graveyard Shift" to Tesseracts 17. {Thanks to all for their help with this story (crittered under the title "Grave Sight")! If you are not familiar with Tesseracts, some of Canada's best known speculative fiction writers have been published in the previous 16 volumes of this annual anthology, including Margaret Atwood, William Gibson, Robert Sawyer, and Spider Robinson. I'm in jaw-dropping company! Watch for it on Amazon (and at Chapters in Canada)in October. } [Jun 2013]
R.W.W. Greene, whose (Critter'd) short story, ""A Feeble Gleam of Stars"" is now out in the current issue of Fiction Vortex. [Jun 2013]
Barbara Davies, who sold her (Critter'd) short story, "The Dragonbird" to Lorelei Signal. [Jun 2013]
Karl Bunker, who sold his (Critter'd) short story, "The Woman From the Ocean"" to Asimov's. {Thanks to all the critters who helped out with this one! } [Jun 2013]
Massimo Marino, whose (Critter'd) novel, "Daimones" is now out from CreateSpace. {Daimones has 49 reviews on Amazon, 28 5-stars reviews, and 15 4-stars reviews. 86 rankings and 65 reviews on Goodreads, 4+ average. Many parts have been crittered. To all, thank you. Has won the 2012 PRG Reviewer's Choice Award in Science Fiction; and received both the Awesome Indies Seal of Approval, and the indiePENdents.org Seal for Quality Writing It is now at $0.99 promotional price down from $3.99 during the release period (starting 1st June) of the volume 2 of the Daimones Trilogy, "Once Humans". Price will raise again as soon as Once Humans goes live. Profit while it lasts. Daimones (Daimones Trilogy, #1) http://www.amazon.com/Daimones-Trilogy-ebook/dp/B0083IHV5I/ "Long live the freedom of those who dreamed the future and made it our present." - 'Dan Amenta' in Daimones (Daimones Trilogy, #1) http://www.amazon.com/Daimones-Trilogy-ebook/dp/B0083IHV5I/ref A post-apocalypse whose dystopian roots are million years old. Ancient aliens, a galactic struggle, the control of unique resources, meld to dictate the fate of the humankind. Read how everything starts in "Daimones", when the extermination of the human race begins and an ancient power controls the planet. Continue to see the conflicts unfold into "Once Humans" released soon this month of June http://animoto.com/play/xXh43M3HZlovzDaoIPQ8XQ } [Jun 2013]
Rick Polito, who reports "Dark Shift went up in the Kindle Store Friday night and somehow I am now #2 in "Hot New Releases" for children's science fiction. I'm in the top 100 sales for teen science fiction and I've cracked the top 100 for general horror few times. It's selling at the debut novel price of 99 cents.. ". {A few years ago I wrote the kind of book I'd dreamed of writing when I was 12 – a book I've described as "Buffy the Vampire Slayer meets Mad Max at the Breakfast Club." I had an agent but she gave up after 10 rejections. I sat on it for a couple of years before making the "what do I have to lose?" calculation, making the cover on my iPhone and putting it up in the Kindle store. I'm thrilled with the exposure and I'm polishing up the already-written sequel. } [Jun 2013]
Greg Kurzawa, who sold his (Critter'd) short story, "The Freshwater Shark Lie" to Gray's Sporting Journal. [Jun 2013]
Mary Catelli, whose (Critter'd) short story, "The Turtle in the Sea of Sand" is now out in the current issue of Black Gate. {It can be read here: http://www.blackgate.com/black-gate-online-fiction-the-turtle-in-the-sea-of-sand/ } [Jun 2013]
Laura-Marie Steele, who sold her short story, "The Autobiography of Jeffrey Kline" to Black Treacle Magazine. {My first short story sale. Although this one wasn't crittered, I discovered Black Treacle through Critters and have received helpful comments on other submissions. Thanks guys. } [Jun 2013]
Chet Gottfried, who sold his (Critter'd) novel, "Einar and the Cursed City" to Zetabella Press. {I've signed a contract last week for the production of my YA fantasy novel, Einar and the Cursed City (which was crittered back in 2011, under the working title of The Cursed City) with Zetabella Publishing. Among my thanks to the first chapter critiquers, I owe a heavy debt to my three DRs who really went all out for the whole novel: Annie, Greg, and Russ. } [Jun 2013]
Holly Schofield, whose (Critter'd) short story, "Hurry Up and Wait " is now out in the current issue of Perihelion Science Fiction . {Thanks, everyone! Your critiques were invaluable. The story is up at http://www.perihelionsf.com/fiction_4.htm } [Jun 2013]
Holly Schofield, who sold her short story, "Twist of Fate" to Oomph: A Little Super Goes A Long Way anthology. {Although this wasn't Crittered, I have learned so much from this site, I'm sure I couldn't have done it without you guys. This anthology, about superheroes with just a little bit of superpower, will be published in the fall of 2013. } [Jun 2013]
Jennifer Johnson, who sold her short story, "The Scent of Things to Come" to Nature Magazine's Futures. {This story wasn't Crittered but did benefit from the experience I've had here. Thanks, everyone! } [May 2013]
Paul Baughman, who sold his short story, "Minstrel" to Nameless Magazine. {First Sale! Thanks to everyone who crittered my stories. Although this one didn't go through the queue, the crits of my previous stories made this one better. Minstrel will be published in the Spring 2014 issue (it's a semi-annual publication) in print and online at http://namelessmag.jasunni.com } [May 2013]
Eleanor Wood, whose (Critter'd) short story, "Dark Keys, Light Keys" is now out in the current issue of Sorcerous Signals. [May 2013]
Fiona Howland-Rose (writing as Fi Michell), whose (Critter'd) short story, "Shoeless" is now out in the current issue of Andromeda Spaceways Inflight Magazine. {Thanks to everyone who gave me feedback and helped make this happen. } [May 2013]
Andrew Richardson, who sold his (Critter'd) novel, "The Torridon Witches" to Damnation Books. [May 2013]
Brian Burt, whose (Critter'd) novel, "Aquarius Rising" is now out from Double Dragon Publishing. {I was a "lapsed" Critter for a while due to my oldest son's illness, but it feels great to be back. Thank you so much to the folks who provided invaluable feedback on the first few chapters of the novel several years ago. I appreciate the help! } [May 2013]
Kate Heartfield, whose (Critter'd) short story, "Word for Word" is now out in the current issue of Waylines Magazine. {This piece went through the queue as "Box". Thanks, everyone, for the helpful critiques. It sold last week and is up now at http://waylinesmagazine.com/. } [Apr 2013]
David Mundy, who sold his (Critter'd) short story, "Note to Self" to Daily Science Fiction. {Under the name Hans Hergot } [Apr 2013]

[Click here to see the full list of Woohoos going back to 1996.]