Captain's Blog
Critter Notices
Preditors & Editors Changeover
With the very sad passing of Dave Kuzminski, who ran P&E, I've taken over the P&E duties. Lots of what I hope are improvements; check it out at pred-ed.com.
Free Web Sites
Free web sites for authors (and others) are available at www.nyx.net.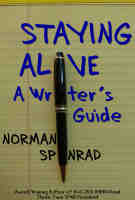 Stayin' Alive
If you want to make a career of SF writing,
STAYING ALIVE - A WRITER'S GUIDE
by three-time SFWA President Norman Spinrad, published by your Critter Captain's
ReAnimus Press
, is an indispensable guide to the inside workings of the SF publishing industry by an expert.
How to Write SF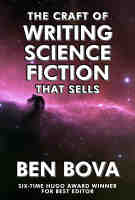 The Craft of Writing Science Fiction that Sells by Ben Bova, best-selling author and six-time Hugo Award winner for Best Editor. (This is one of the books your ol' Critter Captain learned from himself, and I highly recommend it.) (Also via Amazon)
Critters Server is Dying has been Replaced
See important details here in my blog. Let me know if you find anything that isn't working right. (Manuscripts are now available for this week, FYI.)
Book Recommendation
THE SIGIL TRILOGY: The universe is dying from within... "Great stuff... Really enjoyed it." — SFWA Grandmaster Michael Moorcock
Announcing ReAnimus Press
If you need help making ebooks from manuscripts or print copies—or finding great stuff to read—look no further! An ebook publisher started by your very own Critter Captain. (And with a 12% Affiliate program.) [More]
~~~
FEATURED BOOK
~~~
Recent RFDRs


The 20 most recent RFDR requests...

 F   Pawn of the Gods                   Andrea Franco-Cook -#23438
 SF  The Traveler, Chapter 1            Gregory Sliwoski -#23434
 F   Shadow in the Empire of Light, Chapter 1  Jane Routley -#23429
 F   Cursed                             Galen Surlak-Ramsey -#23425
 SF  The Journey Men, Chapters 1-2      Emma Baillie -#23412
 SF  Sherina's Dream Chapter 1 - 2      Donna Burt -#23404
 F   Foxfire                            Amber Iwan -#23395
 F   Silverdirt, Chapters 8-9           Brenna Raney -#23388
 SF  The Pro, Chapter 2                 Richard Edwards -#23358
 F   Dragon Marked                      [mpc] Kaitlyn Whipple -#23355
 F   The last of the Celerion - The awakening of Triolet  Latasha Ramos -#23345
 F   Midnight for a Garden of Little Flowers  Dan Stern -#23344
 SF  Age of Birds, Chapter 3            Russell de Grove -#23338
 SF  Defender: Return of the Harkers - Chapter 1  Eric J. Juneau -#23335
 F   Flagrant Witch, Chapters 1-3       Andrew Kelly -#23328
 SF  Something is Coming, chapers 1 - 2  Erwan Le Gwen -#23326
 F   The Inevitable Line Of Force, Chapters 6-10  Chris Cragwick -#23321
 F   Handmaiden of the Alahim, Chapter 1: New York  Susan Boesger -#23320
 F   7th Kingdom Come Chapter 1         Michael Wesolek -#23313
 SF  Silverdirt, Chapters 6-7           Brenna Raney -#23310

To read one of these RFDRs, visit the manuscripts page.
(mss. are not linked here for security reasons.)


Free Ad for a Fellow Workshop Member: