Captain's Blog
Critter Notices
Preditors & Editors Changeover
With the very sad passing of Dave Kuzminski, who ran P&E, I've taken over the P&E duties. Lots of what I hope are improvements; check it out at pred-ed.com.
Free Web Sites
Free web sites for authors (and others) are available at www.nyx.net.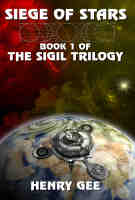 The Sigil Trilogy
If you're looking for an amazing, WOW! science fiction story, check out
THE SIGIL TRILOGY
. This is — literally —
one of the best science fiction novels I've ever read.
How to Write SF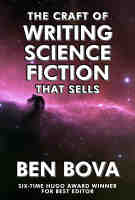 The Craft of Writing Science Fiction that Sells by Ben Bova, best-selling author and six-time Hugo Award winner for Best Editor. (This is one of the books your ol' Critter Captain learned from himself, and I highly recommend it.) (Also via Amazon)
Critters Server is Dying has been Replaced
See important details here in my blog. Let me know if you find anything that isn't working right. (Manuscripts are now available for this week, FYI.)
Book Recommendation
THE SIGIL TRILOGY: The universe is dying from within... "Great stuff... Really enjoyed it." — SFWA Grandmaster Michael Moorcock
Announcing ReAnimus Press
If you need help making ebooks from manuscripts or print copies—or finding great stuff to read—look no further! An ebook publisher started by your very own Critter Captain. (And with a 12% Affiliate program.) [More]
~~~
FEATURED BOOK
~~~
error_reporting (E_ALL ^ E_NOTICE); if (!$name) { $name="Critters"; $textonly=1; } ?> if (!$newspage) include("/home/httpd/html/users/critters/notices.inc") ?>
The Rules of Writing
The following was from an email exchange regarding Rules in writing (but applies to Art in general):

> Learning to create art--drawn, written, musical--has its rules. You
> don't hold the trombone with your toes and play with your nose
> (although there's probably someone who can break even those rules and
> create something meaningful).

The problem with the word "rules" is that it can mean either "mandatory"
(as in law) or "customary."  "Rules" in art are the latter, but
many beginners assume the former when they hear the word "rule," and
thus may inappropriately demand compliance by others.

I think of art as having "conventions": "A practice or procedure widely
observed in a group; a custom".  By convention you hold the trombone
in your hands, you don't split infinitives, etc.  You should learn what
the conventions are, but not feel they are Laws, nor demand others follow
them.  In critiquing, you can, instead, offer your opinion that someone's
unconventional usage didn't work for you.

(Now, in the "mandatory" sense, computer programming has Rules.  If
you misplace a semi-colon in a program, it simply doesn't work. :-)


error_reporting (E_ALL ^ E_NOTICE); ?>