Captain's Blog
Critter Notices
Critters Server is Dying has been Replaced
See important details here in my blog. Let me know if you find anything that isn't working right. (Manuscripts are now available for this week, FYI.)
Book Recommendation
THE SIGIL TRILOGY: The universe is dying from within... "Great stuff... Really enjoyed it." — SFWA Grandmaster Michael Moorcock
Announcing ReAnimus Press
If you need help making ebooks from manuscripts or print copies—or finding great stuff to read—look no further! An ebook publisher started by your very own Critter Captain. (And with a 12% Affiliate program.) [More]
~~~
FEATURED BOOK
~~~
News
[It's Freebie Friday in the
Critters Store
...]
Free Web Sites
Free web sites for authors (and others) are available at www.nyx.net.
New Book from a Critter Member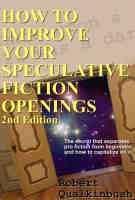 **NOW IN
PRINT EDITION
TOO!** Awesome new book,
HOW TO IMPROVE YOUR SPECULATIVE FICTION OPENINGS
, from a Critter member whose unearthed a shard of The Secret to becoming a pro writer. Really good piece of work. "...if you're at all concerned about story openings, you'd be nuts not to read what Qualkinbush has to say." —Wil McCarthy, author of BLOOM and THE COLLAPSIUM
How to Write SF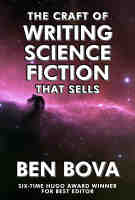 The Craft of Writing Science Fiction that Sells by Ben Bova, best-selling author and six-time Hugo Award winner for Best Editor. (This is one of the books your ol' Critter Captain learned from himself, and I highly recommend it.) (Also via Amazon)
Free Ad for a Fellow Workshop Member:

The Critters Queue
Submission files themselves are here.

Queue of manuscripts out or to be sent (dates are estimated,
depending on number of mss. sent out, which depends on number of
members; probabalistically, the end of the queue is usually about
a month away):


     Title                      	Author
---------------------------------------------------------------------
Week of 11-Dec-2013 (Crits due 18-Dec-2013):
 SF  Paradise Unwinding                 [mpc] Levi Jacos -#23183
 F   Stairs To The Sky: A Fragmentary Retrospective  Joanna Hoyt -#23184
 F   Shrouded Goddess_chapters 2+3      Patricia Moussatche -#23185
 SF  Pawprints in the Aeolian Dust      Eleanor Wood -#23186
 H   The Host with the Most             Nicholas Stella -#23187
 SF  Eternity in an Hour                Jack Calverley -#23188
 F   Tormented Souls                    Lee Dailey -#23189
 F   Monday Blues                       Valentina Buffetti -#23190
 F   Kauai - Jared and Kinsley          Wayne Halm -#23191
 SF  Olympus Part I                     Neal Williams -#23192
 SF  Hyphae                             Will Milner -#23193
 SF  The Anonymous                      Tran Serum -#23194
 SF  Recall This Best to Mind           Vince Bonasso -#23195
 SF  Abraham the Eskimo -- Part One     Carlos Mano -#23196
 SF  A Hitch in His Getalong            Darin Ramsey -#23197
 SF  Little Pink Robot                  Adam vanLangenberg -#23198
 SF  Coetta's Clay                      Cody Sisco -#23199
 F   Between Sea and Shore              Vanessa Fogg -#23200
 SF  Starship Epiphany: First Steps     Luke Beahan -#23201
 F   Silverdirt, Chapters 3-4           Brenna Raney -#23202

Week of 18-Dec-2013 (Crits due 25-Dec-2013):
 F   Thus to All Scrooges and Grinches  [mpc] Douglas Kolacki [?]
 F   _Untitled_ - Prologue              Elizabeth Hiestand
 SF  The Centauri Survivors, Chapter 1  Andrew J Chamberlain
 F   Hand-Off, A Story of the Sorcerous Crimes division  Doug Scott
 F   Atlantean Speakeasy                Stephanie Boisvert
 F   Broken                             Carl Gable
 H   A Bullet With My Name On           Kit Power
 SF  Bloodlines,Chapter 1               Debra Crichlow
 H   The Not, Chapter 28                A. R. Braun
 F   The Swallow of 221B Baker Street   Irene Ying
 F   SPHERES: Whispers and Murmurs, Chapter 1 RFDR  Lynanne Carroll
 F   Striking Chains, Ch.1-2ish         Kris Schnee
 H   Saviors                            Ed Kratz
 F   A Devil in the Land of the Gods    P.E. Zimmerman
 H   Grundy                             Frank Oreto
 SF  Now                                Charles Hand
 SF  Contributing to the Delinquency of a Minor  Larry Rachman
 H   Harvester of Days                  Mav Skye
 F   Flotsam                            Rebecca Jay
 F   Seeing the Light                   Joe Walker
 F   Of That Alluring Fruit             Jonathan Byrne

Week of 25-Dec-2013 (Crits due 1-Jan-2014):
 F   Sionn Chapter 1                    Nicole Nagelberg
 SF  Little Machines                    Rupan Malakin
 SF  Recursion                          Dom Dulley
 SF  Toy Soldier                        L Chan
 SF  Breathing Space                    Jenny Green
 F   The Mirren Stone, Chapters 1-2     Susan Boesger
 SF  Botany Bay                         Clancy Weeks
 SF  Secret Service: LA                 Ralph M. Ambrose
 SF  At the Sign of the Black Dog       Jon Hurwitz
 SF  The Eighth Tick                    Madison Culler
 F   The Lady's Secret Face -- Prologue and Ch. 1 -- RFDR  Tara Saunders
 F   The Clandestine                    Darla Jackson
 SF  Hindsight                          Felicia Beasley
 F   The Compassionate Lion             Alexander Harris
 SF  The Lighthouse Keeper              Mary j. Daley
 F   President Buchanan's Diary         Douglas Kolacki
 F   Ballads of Ealaidh-The Final Candlemark  Jennie Brass
 H   The Macnever Report                Jeffrey Wikstrom
 SF  Gotta Have That Look               Chris Kenworthy
 SF  Seven                              Vidal Cid
======================================================================
      (Note, if the last week above looks abnormally large, it probably
      needs me to add a new week, a task I do manually when I get around
      to it.  Future critique dates are approximate and subject to change.)

Symbols:

[@] - Pro [SFWA/HWA] author
[*] - Extra week(s) for holidays/aburt-out-of-town.
[mpc] - Most Product Critter Award winner
[!] - Special non-Wednesday dates because Critter Captain will be out of town
[ERROR!] - This means there is a problem and your manuscript will NOT be
     sent out - Contact the Critter Captain ASAP if you see this by your name.

Waiting to enter Queue (Will enter at end of queue on "[date]"):
 YA  Enchanter RFDR                     E. B. Pike [?]
 M   The Shot                           Zimbalist L. Odhams [?]
 M   The Shot                           Zimbalist L. Odhams [?]
 L   The Six Samurai Chapters 1-3       John Endris [?]
 F   Our Father, Chapter 1              Brandon Byes [?]
 SF  Terra Prime: Fall of a Federation [?]
 SF  Rats in Space [?]
 F   Dollhouse of the He, Chart [?]
 L   Violin Playing Robot               Chrissie Wranja [?]
 H   Sanctuary                          Adam vanLangenberg [18-Dec-2013]
 F   Dad dad dad                        Will Milner [18-Dec-2013]
 SF  Abraham the Eskimo -- Part Two     Carlos Mano [18-Dec-2013]
 F   Daughter of the Wizard             Lee Dailey [18-Dec-2013]
 SF  The Refuse Hunter's Daughter       Will Milner [?]
 F   Tribute                            Lee Dailey [?]
 F   The Wind Demon - Prologue          Lee Dailey [?]
 F   Under Gear Market                  Will Milner [?]
 F   The Root Of The Matter, a Rhode Island Story  Douglas Kolacki [1-Jan-2014]
 F   You Know You're A Vampire          Douglas Kolacki [?]
 F   Only The Whale Stands Between Me and England  Douglas Kolacki [?]
 SF  Olympus Part II                    Neal Williams [18-Dec-2013]
 H   The God of West Kansas             Frank Oreto [25-Dec-2013]
 F   Despair _Ch.1-2_                   Lee Dailey [?]
 F   Shrouded Goddess_chapters 4+5      Patricia Moussatche [18-Dec-2013]
 H   The Hansel Diet                    Stephanie Boisvert [25-Dec-2013]
				-+-

Held until participation ratio improves (then out that week):
 F   The Apothecary's Curse: Prologue   Barbara Barnett [04-Sep-2013]
 SF  Salt                               Aaron S. Gallagher [04-Sep-2013]
 F   Book Riders, Chapters 1-3          Sylvie E. Leclerc [11-Sep-2013]
 F   The 37th, Chapter One              Seth Z. Herman [11-Sep-2013]
 F   Dark City                          Dick Romeo Matshaba [11-Sep-2013]
 F   The Prince That Time Forgot, Chapter 5  Robert William Shmigelsky [11-Sep-2013]
 SF  Jason Green Argo Chapters 2-4      Rich Masters [18-Sep-2013]
 SF  Full Knife Chapter 1               Chip Yde [25-Sep-2013]
 F   Electraa                           Kyrene L. Roy [02-Oct-2013]
 H   Basement                           Floyd Northrip [02-Oct-2013]
 F   The Pure One                       Teva McLaren [09-Oct-2013]
 H   A Little Help                      Linda Robbins [09-Oct-2013]
 SF  Prototype                          George Cotronis [23-Oct-2013]
 SF  Rose                               Jack Dowden [30-Oct-2013]
 SF  The Wasp and the Fly               Sandra Kellams [30-Oct-2013]
 F   Just Another Angel                 Jimmy Schaefer [06-Nov-2013]
 H   Animals                            Alastair D. Hileman [13-Nov-2013]
 F   Grafted, Chapter 1                 David Flood [20-Nov-2013]
 SF  Access Code                        Kaushik Ghose [27-Nov-2013]
 F   Puriwrinkle                        Maranda Hallinan [27-Nov-2013]
 SF  When Time Spies                    Scott Shipp [04-Dec-2013]
 F   Haunted Short STory                Mary Bennett [04-Dec-2013]
 H   Planned Community                  J.A. Tolbert [11-Dec-2013]
 SF  Concrete Jungle                    Nolan M. K. Kamitaki [11-Dec-2013]
                                :::


>> Note 1:  Held manuscripts are removed after four weeks on hold and
>> must be resubmitted.

>> Note 2:  It is the *author's* responsibility to notify Aburt when
>> they have brought up their critique count and want their ms. sent out.







[Click here to see the queue including archival data from 1995.]