Captain's Blog
Critter Notices
Network speeding up
I'm switching the connection over to a new, shiny 10X faster network because of all the load. There might be bits of downtime as your boxes learn new addresses and things. Should be brief. Let me know of any prolonged outages you see.
Preditors & Editors Changeover
With the very sad passing of Dave Kuzminski, who ran P&E, I've taken over the P&E duties. Lots of what I hope are improvements; check it out at pred-ed.com.
Free Web Sites
Free web sites for authors (and others) are available at www.nyx.net.
Space Travel for SF Writers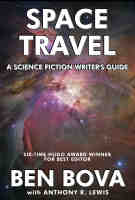 Hot off the presses from ReAnimus Press! Space Travel - A Science Fiction Writer's Guide— An indispensible tool for all SF writers that explains the science you need to help you make your fiction plausible. (Also via Amazon)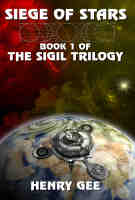 The Sigil Trilogy
If you're looking for an amazing, WOW! science fiction story, check out
THE SIGIL TRILOGY
. This is — literally —
one of the best science fiction novels I've ever read.
Critters Server is Dying has been Replaced
See important details here in my blog. Let me know if you find anything that isn't working right. (Manuscripts are now available for this week, FYI.)
Book Recommendation
THE SIGIL TRILOGY: The universe is dying from within... "Great stuff... Really enjoyed it." — SFWA Grandmaster Michael Moorcock
Announcing ReAnimus Press
If you need help making ebooks from manuscripts or print copies—or finding great stuff to read—look no further! An ebook publisher started by your very own Critter Captain. (And with a 12% Affiliate program.) [More]
~~~
FEATURED BOOK
~~~
Who Sent What?
This is a list of what critiques have been filed "recently" (roughly within the last 30 days). If a critique you sent a while back isn't on the list, go ahead and send it again. (No harm if it ends up that it was a duplicate, eh?)
Last updated: Wed Apr 23 00:02:15 MDT 2014
Based on last critique filed at: Tue Apr 22 23:16:33 MDT 2014
This is updated daily. You may have to do a reload to get your browser to update the page.
The queue (which has titles/authors to match up with the numbers) is here.
Critter ... ms#
crit1: 23488, 23509
crit10278: 23469, 23493, 23523, 23544, 23575
crit11073: 23495, 23527, 23550, 23579
crit12848: 23478, 23490, 23557
crit13071: 23458
crit13076: 23493, 23531
crit13158: 23467
crit13348: 23470
crit13410: 23518
crit13549: 23574
crit14338: 23551
crit14430: 23531
crit14471: 23469, 23491
crit14630: 23443
crit1468: 23504
crit14721: 23527
crit14757: 23490
crit15562: 23549
crit16157: 23448, 23473, 23509, 23533, 23546
crit16280: 23497, 23503, 23532, 23556
crit16552: 23443, 23448, 23454, 23463, 23469, 23487, 23499, 23523, 23525, 23530, 23535, 23543, 23553, 23571
crit17086: 23458
crit17129: 23463, 23467, 23474, 23485
crit17332: 23469, 23544, 23556, 23572
crit17430: 23528
crit17595: 23454, 23481, 23492, 23495, 23532, 23548, 23574
crit17864: 23496, 23526, 23550, 23566, 23569
crit17973: 23502, 23575
crit18140: 23461, 23500, 23501, 23531, 23576
crit18247: 23518, 23527, 23551, 23557, 23578
crit18326: 23443, 23464, 23466, 23490, 23523, 23535, 23550, 23576
crit18373: 23443, 23448, 23454, 23458, 23464, 23489, 23492, 23532, 23540, 23541
crit18664: 23461, 23506
crit18999: 23469, 23476, 23502, 23546, 23548
crit19292: 23465, 23471, 23474, 23496, 23547, 23549, 23552, 23564, 23567, 23577
crit19302: 23522
crit19739: 23520, 23540, 23541, 23545, 23551, 23552, 23556, 23564, 23566, 23568, 23569, 23571, 23572, 23574, 23577, 23578, 23579, 23580, 23581
crit19976: 23525, 23527, 23535
crit20008: 23467, 23479, 23521
crit20079: 23559
crit20191: 23523, 23574
crit20261: 23480, 23535, 23554, 23571
crit20540: 23443, 23454, 23456, 23458, 23480
crit20724: 23530, 23575
crit20853: 23448, 23456
crit20927: 23458
crit210: 23463, 23465, 23467, 23487, 23491, 23506, 23518, 23519, 23521, 23548, 23568
crit21275: 23458, 23469, 23574
crit21453: 23469, 23523, 23557, 23575
crit21474: 23467, 23544
crit21570: 23487, 23491, 23511
crit21659: 23467
crit21886: 23518
crit21907: 23448, 23467, 23478, 23499, 23511, 23572
crit22000: 23478, 23504, 23526, 23577
crit22049: 23499, 23565, 23571, 23581
crit22098: 23541, 23558
crit22188: 23463, 23511, 23531, 23553, 23570
crit22211: 23443, 23461
crit22222: 23522, 23551
crit22268: 23507, 23517, 23524, 23566
crit22479: 23566, 23567, 23570, 23571, 23572, 23574, 23575, 23576, 23577, 23580
crit22572: 23553, 23570
crit22601: 23472, 23473
crit22720: 23544, 23556
crit22812: 23470
crit23422: 23544, 23553, 23559
crit23697: 23443, 23448, 23511
crit23751: 23527, 23530, 23540, 23553
crit24060: 23448, 23464, 23511, 23523, 23530, 23535
crit24108: 23443, 23480, 23489, 23531, 23571
crit24253: 23484, 23493, 23504, 23554, 23564, 23565, 23566, 23569, 23571, 23578, 23579, 23580
crit24274: 23448, 23458, 23463, 23506, 23527, 23569, 23579
crit24341: 23458
crit24381: 23559
crit24406: 23458, 23463, 23505, 23520, 23544, 23565, 23581
crit24454: 23566, 23577
crit24508: 23448, 23525, 23527
crit24545: 23558
crit24635: 23559
crit24681: 23473, 23485
crit24868: 23570
crit25230: 23515, 23516, 23518, 23520, 23521, 23522, 23523, 23524, 23530, 23531, 23532, 23533
crit25303: 23458, 23469, 23516, 23557, 23577
crit25389: 23476, 23493, 23530, 23553, 23579
crit25740: 23467, 23480, 23489, 23553, 23571
crit25795: 23553
crit25801: 23490
crit25859: 23448, 23464, 23468, 23492, 23495, 23540, 23580
crit25909: 23458
crit25954: 23478, 23531, 23571
crit26024: 23548
crit26158: 23480, 23489, 23530, 23574
crit26354: 23481
crit26379: 23458, 23467, 23499
crit26496: 23508, 23521
crit26543: 23443, 23508, 23518, 23523, 23525, 23531, 23556, 23559
crit26575: 23501
crit26724: 23448, 23490, 23540, 23571
crit26783: 23522
crit26803: 23467, 23487, 23540
crit26991: 23463, 23502, 23527, 23553, 23570
crit27153: 23472
crit27173: 23443, 23480, 23521, 23571
crit27201: 23454, 23481, 23523, 23532, 23535
crit27246: 23502
crit27387: 23458, 23464, 23487, 23522, 23548
crit27428: 23570, 23575
crit27435: 23448, 23481, 23492, 23530, 23548, 23581
crit27486: 23480, 23530
crit27491: 23420, 23468, 23472, 23506, 23508, 23522
crit27502: 23464, 23487, 23521
crit27549: 23448
crit27640: 23454, 23473, 23506, 23530, 23548, 23578
crit27700: 23448, 23478, 23518, 23525, 23543, 23548, 23574
crit27726: 23454
crit27759: 23465, 23525, 23568
crit27770: 23462, 23520
crit27810: 23448, 23489, 23492, 23495, 23499, 23509, 23518, 23523, 23525, 23527, 23531, 23535
crit27845: 23523
crit27998: 23448, 23478, 23511, 23530, 23553, 23571
crit28024: 23502
crit28027: 23466, 23467, 23468, 23473, 23478, 23487, 23521, 23543, 23570
crit28059: 23478, 23527, 23532
crit28092: 23420, 23443, 23454, 23456, 23461, 23473
crit28104: 23523, 23553
crit28202: 23462, 23488, 23531
crit28305: 23473, 23523, 23548, 23559, 23572
crit28310: 23488, 23499, 23509, 23521, 23523
crit28321: 23443, 23489, 23495
crit28341: 23536, 23575, 23578
crit28386: 23467, 23530
crit28405: 23458, 23484, 23493, 23520, 23543
crit28412: 23493, 23508, 23528, 23543
crit28444: 23467, 23472, 23496, 23515, 23520
crit28467: 23464, 23517
crit28518: 23570
crit2852: 23443, 23448, 23454, 23458, 23502
crit28553: 23544, 23556, 23558, 23571, 23575
crit28560: 23464
crit28561: 23467, 23554
crit28568: 23488, 23489, 23544, 23575
crit28585: 23448, 23483, 23510, 23525, 23530, 23544, 23575
crit28614: 23505
crit28637: 23485, 23523, 23532
crit28644: 23549
crit28702: 23523, 23535
crit28746: 23420, 23474
crit28747: 23458, 23540
crit28750: 23420, 23463, 23468, 23523, 23525, 23548, 23557, 23569
crit28769: 23458, 23484, 23501, 23532, 23553, 23566
crit28819: 23523, 23540, 23548
crit28837: 23488
crit28844: 23456, 23471, 23506, 23535, 23548, 23577
crit28869: 23469, 23470, 23472, 23489, 23495, 23498, 23523, 23544, 23551, 23571, 23572, 23575
crit28975: 23502, 23518, 23551
crit28991: 23488, 23522
crit29003: 23489
crit29015: 23493
crit29050: 23468, 23474
crit29071: 23448, 23469, 23489, 23531, 23540, 23580
crit29080: 23448, 23480
crit29083: 23448, 23469, 23483, 23487, 23488, 23540, 23556
crit29085: 23535
crit29098: 23476, 23490, 23492, 23496, 23530, 23540
crit29118: 23489
crit29189: 23448, 23472, 23473, 23489, 23535, 23559, 23575
crit29194: 23454
crit29209: 23469, 23480
crit29238: 23480, 23501
crit29243: 23557
crit29252: 23458, 23467, 23489, 23518, 23558, 23571
crit29280: 23472, 23527, 23530, 23553, 23571
crit29287: 23420, 23476, 23488, 23511, 23547, 23548, 23572, 23574
crit29296: 23557
crit29302: 23420, 23489, 23525, 23531, 23543, 23572
crit29353: 23487, 23516
crit29390: 23472, 23506, 23551
crit29403: 23456, 23476, 23478, 23495, 23502, 23509, 23544, 23554, 23556, 23567, 23574, 23575
crit29430: 23448, 23498
crit29434: 23420, 23443, 23448, 23487
crit29449: 23469, 23557
crit29453: 23466, 23489, 23531, 23559
crit29454: 23544
crit29457: 23467, 23499, 23519, 23559, 23573
crit29474: 23505, 23535, 23554
crit29490: 23448, 23463, 23501, 23559
crit29491: 23463
crit29493: 23464, 23487, 23536
crit29517: 23485, 23559
crit29520: 23454, 23485
crit29521: 23458, 23493
crit29529: 23443, 23492, 23493, 23531, 23535, 23566
crit29530: 23532, 23571
crit29533: 23548, 23575
crit29549: 23511, 23516, 23550
crit29551: 23420, 23443, 23468, 23469, 23474, 23545
crit29567: 23443, 23470, 23481, 23493, 23505, 23527, 23544, 23570, 23578, 23581
crit29580: 23481, 23579
crit29585: 23443, 23470, 23480, 23492, 23505, 23544, 23556, 23558, 23581
crit29593: 23454, 23458
crit29606: 23448
crit29617: 23474, 23523
crit29618: 23491
crit29627: 23480, 23498, 23540, 23576
crit29630: 23483, 23488, 23530, 23548
crit29641: 23448, 23489
crit29649: 23480
crit29651: 23549
crit29653: 23463, 23577
crit29654: 23529, 23565, 23566, 23567, 23570, 23572, 23575, 23576, 23578, 23580, 23581
crit29659: 23467, 23479
crit29678: 23497, 23499
crit29690: 23480, 23527, 23550
crit29693: 23467, 23473, 23499, 23531
crit29702: 23507
crit29709: 23544, 23556, 23568, 23569, 23575
crit29712: 23480, 23509, 23540, 23569, 23575
crit29733: 23518, 23535
crit29743: 23443, 23448, 23456, 23458, 23476, 23477, 23480, 23482, 23487, 23488, 23495, 23496, 23518, 23525, 23531, 23535, 23541, 23543, 23565, 23570, 23574
crit29754: 23448
crit29755: 23571, 23576
crit29758: 23464, 23466, 23480, 23495, 23500, 23511, 23515, 23522, 23533, 23543, 23546, 23553
crit29762: 23472, 23489, 23525, 23543, 23575
crit29772: 23420, 23443, 23448, 23458, 23465, 23469, 23484, 23492, 23494, 23500, 23501, 23502, 23503, 23505, 23508, 23510, 23511, 23521, 23524, 23529, 23540, 23541, 23542, 23543, 23547, 23548, 23549, 23550, 23554, 23557, 23566, 23568, 23570, 23573, 23580, 23581
crit29776: 23550
crit29803: 23478, 23527, 23551
crit29808: 23443, 23480, 23490, 23527, 23556, 23557, 23581
crit29816: 23448
crit29826: 23523, 23525, 23530, 23554
crit29841: 23474
crit29845: 23487, 23488, 23489, 23491, 23502, 23525, 23527, 23531, 23551, 23557, 23565, 23575
crit29846: 23461, 23496, 23534, 23556, 23558
crit29860: 23454, 23481, 23550, 23556
crit29864: 23448, 23472, 23481, 23488, 23489, 23548, 23571, 23574, 23575
crit29868: 23454, 23469
crit29871: 23443, 23448, 23489, 23501, 23553, 23575, 23576
crit29875: 23461, 23467, 23493, 23530, 23548, 23551
crit29876: 23443
crit29890: 23490, 23547
crit29899: 23487, 23526, 23555, 23574
crit29901: 23502, 23523, 23557, 23571
crit29927: 23458, 23463
crit29931: 23526
crit29932: 23420, 23448, 23467, 23532, 23571, 23575
crit29934: 23477
crit29936: 23491, 23494, 23544
crit29947: 23470, 23531
crit29948: 23501
crit29949: 23458, 23461, 23501, 23527, 23566
crit29956: 23509, 23534, 23545, 23566, 23569, 23575, 23581
crit29957: 23467, 23546
crit29961: 23476, 23503, 23535, 23575
crit29975: 23485
crit29982: 23524
crit29987: 23468, 23535, 23553, 23557
crit29988: 23420, 23448, 23456, 23458, 23464, 23477, 23482, 23483, 23490, 23495, 23499, 23510, 23516, 23521, 23524, 23540, 23555, 23559, 23570, 23571, 23580
crit29995: 23525
crit30004: 23448, 23476
crit30011: 23463, 23470, 23481, 23508, 23530, 23549
crit30023: 23454, 23463, 23507, 23518, 23525, 23557, 23565
crit30029: 23466, 23495, 23521
crit30030: 23443, 23462, 23463, 23472, 23494, 23496, 23510, 23515, 23516, 23520, 23527, 23528, 23531, 23533, 23535, 23536, 23540, 23554, 23566, 23578
crit30033: 23458, 23501, 23523, 23571
crit30042: 23483, 23506, 23535
crit30045: 23467, 23473, 23476, 23489, 23492, 23494, 23495, 23532, 23554, 23555, 23569, 23570, 23573
crit30054: 23458
crit30056: 23490, 23530
crit30062: 23454, 23481, 23498
crit30065: 23464, 23487, 23531, 23546
crit30066: 23497, 23534
crit30067: 23420
crit30070: 23443, 23467, 23489, 23518, 23543, 23571
crit30075: 23472, 23496, 23557, 23574
crit30076: 23443, 23464, 23490
crit30079: 23484, 23525, 23540
crit30082: 23462, 23463, 23515, 23526, 23550
crit30083: 23443, 23461, 23469, 23470, 23472, 23487, 23492, 23495, 23525, 23535
crit30085: 23579
crit30089: 23420, 23500
crit30090: 23448
crit30094: 23443, 23470, 23483, 23489, 23499, 23525, 23527, 23540
crit30099: 23517, 23518
crit30100: 23448, 23490
crit30102: 23468, 23471, 23516, 23519, 23534, 23545
crit30104: 23454, 23469, 23497, 23527, 23569, 23571
crit30108: 23473, 23508, 23528, 23548, 23571, 23577
crit30112: 23454
crit30114: 23489
crit30115: 23506
crit30117: 23503, 23570
crit30119: 23464, 23466, 23479, 23499, 23511
crit30121: 23461
crit30124: 23484, 23493, 23523, 23559
crit30129: 23480
crit30130: 23462, 23495, 23521, 23568
crit30137: 23461, 23488, 23491, 23521, 23550, 23569
crit30138: 23579
crit30139: 23497, 23532, 23550, 23551, 23581
crit30141: 23499, 23515
crit30144: 23492, 23493, 23494, 23575
crit30148: 23489, 23491, 23504, 23516
crit30149: 23492, 23509, 23536, 23551, 23558, 23565, 23567, 23579
crit30151: 23488
crit30154: 23494, 23517
crit30156: 23502, 23521, 23546, 23572
crit30159: 23496
crit30162: 23511, 23531
crit30163: 23491, 23509, 23522, 23565, 23581
crit30164: 23530, 23544, 23569
crit30169: 23515, 23522, 23545, 23550
crit30171: 23489, 23492, 23495, 23497, 23499, 23503, 23504, 23510, 23518, 23521, 23525, 23530, 23535, 23571, 23574, 23575, 23579, 23580
crit30172: 23487, 23489, 23553, 23574
crit30173: 23518, 23548
crit30178: 23521, 23550, 23558, 23566
crit30179: 23518, 23540
crit30186: 23518
crit30187: 23525, 23527, 23530, 23536
crit30191: 23515, 23519, 23542
crit30192: 23521, 23526, 23530, 23547, 23556, 23558, 23565, 23566, 23571, 23572, 23577
crit30194: 23525, 23544, 23556, 23579
crit30199: 23559
crit30200: 23558
crit30201: 23557
crit30202: 23554, 23558, 23578
crit30204: 23551
crit30206: 23540
crit30207: 23551
crit30209: 23548, 23566
crit30221: 23540
crit30225: 23548, 23558
crit30226: 23575
crit30228: 23571
crit30231: 23580, 23581
crit30232: 23572
crit30235: 23566
crit30251: 23569
crit3075: 23530
crit4180: 23461, 23578
crit4309: 23472, 23480, 23488, 23518
crit5884: 23518
crit5903: 23490
crit6142: 23443
crit64: 23443, 23505
crit6565: 23469
crit6890: 23448, 23505, 23540, 23570
crit7678: 23479, 23483, 23525, 23531
crit7838: 23502, 23571
crit8013: 23472, 23489, 23531, 23540, 23571
crit8814: 23458
crit9098: 23487, 23558
crit9187: 23492
crit9440: 23488, 23489
crit9591: 23469, 23484, 23544
crit9805: 23505, 23518, 23519, 23559, 23578
crit9897: 23493