Captain's Blog
Critter Notices
Network speeding up
I'm switching the connection over to a new, shiny 10X faster network because of all the load. There might be bits of downtime as your boxes learn new addresses and things. Should be brief. Let me know of any prolonged outages you see.
Preditors & Editors Changeover
With the very sad passing of Dave Kuzminski, who ran P&E, I've taken over the P&E duties. Lots of what I hope are improvements; check it out at pred-ed.com.
Free Web Sites
Free web sites for authors (and others) are available at www.nyx.net.
How to Write SF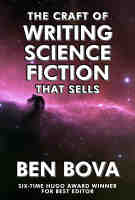 The Craft of Writing Science Fiction that Sells by Ben Bova, best-selling author and six-time Hugo Award winner for Best Editor. (This is one of the books your ol' Critter Captain learned from himself, and I highly recommend it.) (Also via Amazon)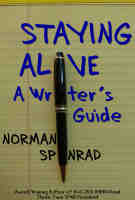 Stayin' Alive
If you want to make a career of SF writing,
STAYING ALIVE - A WRITER'S GUIDE
by three-time SFWA President Norman Spinrad, published by your Critter Captain's
ReAnimus Press
, is an indispensable guide to the inside workings of the SF publishing industry by an expert.
Critters Server is Dying has been Replaced
See important details here in my blog. Let me know if you find anything that isn't working right. (Manuscripts are now available for this week, FYI.)
Book Recommendation
THE SIGIL TRILOGY: The universe is dying from within... "Great stuff... Really enjoyed it." — SFWA Grandmaster Michael Moorcock
Announcing ReAnimus Press
If you need help making ebooks from manuscripts or print copies—or finding great stuff to read—look no further! An ebook publisher started by your very own Critter Captain. (And with a 12% Affiliate program.) [More]
~~~
FEATURED BOOK
~~~
How Many Crits Can the Critters Ship, if the Critters Ship out Crits?
Recent # of crits per story. If you see one that looks lonely from this week, feel free to, y'know, have a look at it. (How lonely is lonely? Well, 15-20 crits is about average, so anything less is "below average".)
Last updated: Wed Apr 16 12:10:01 2014
Based on last critique filed at: Wed Apr 16 11:35:03 MDT 2014
This is updated hourly from 8am to 11pm. You may have to do a reload to get your browser to update the page. Count is of number of emails received for a story, and thus the actual count may be even lower (if there were email bounces, duplicates, etc.).
The manuscripts page (if you want to read one of these) is here.
Ms.# ... #crits
#23540 ... 23 Grace's Birthday, by Jon Hurwitz (SF)

#23541 ... 6 Cats, by Stephen B. Pearl (SF)

#23542 ... 2 Defender: Return of the Harkers - Chapter 3, by Eric J. Juneau (F)

#23543 ... 11 Faulty Memory, by Rebecca Lyons (SF)

#23544 ... 19 Disconnected Synapse, by Rena Zayit (SF)

#23545 ... 2 Age of Birds, Chapter 5, by Russell de Grove (SF)

#23546 ... 5 Future, Promised, by Dom Dulley (SF)

#23547 ... 4 Escape From the Planet Justice, by Melvyn Windham (SF)

#23548 ... 22 Mycelium, by Will Milner (SF)

#23549 ... 5 Cage of Bones, Chapter 5 _Interlude_, by Areeb Ahmad (F)

#23550 ... 9 Leximancer, Chapter 1, by Dave Panchyk (F)

#23551 ... 12 Suzie's Dead End, by Matt Weber (H)

#23552 ... 3 Galaxy Chronicles, by D.R. Dean (SF)

#23553 ... 15 Peculiar Coupling, by Karen Blaha (SF)

#23554 ... 10 Alfred One Chapter 1, by Tom Grayhorse (SF)

#23555 ... 3 The True and Living Memories, by Emma Baillie (SF)

#23556 ... 14 A Letter from an Unhappy Customer, by Jennifer Mitchell (SF)

#23557 ... 16 My Dearest June, by Mike Flinchum (H)

#23558 ... 12 Armor, by Stacey Nilsen (F)

#23559 ... 16 Salt, by Aaron Gallagher (SF)

---