Captain's Blog
Critter Notices
Preditors & Editors Changeover
With the very sad passing of Dave Kuzminski, who ran P&E, I've taken over the P&E duties. Lots of what I hope are improvements; check it out at pred-ed.com.
Free Web Sites
Free web sites for authors (and others) are available at www.nyx.net.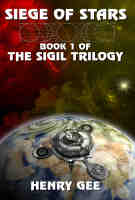 The Sigil Trilogy
If you're looking for an amazing, WOW! science fiction story, check out
THE SIGIL TRILOGY
. This is — literally —
one of the best science fiction novels I've ever read.
Space Travel for SF Writers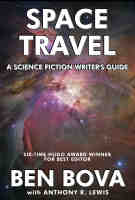 Hot off the presses from ReAnimus Press! Space Travel - A Science Fiction Writer's Guide— An indispensible tool for all SF writers that explains the science you need to help you make your fiction plausible. (Also via Amazon)
Critters Server is Dying has been Replaced
See important details here in my blog. Let me know if you find anything that isn't working right. (Manuscripts are now available for this week, FYI.)
Book Recommendation
THE SIGIL TRILOGY: The universe is dying from within... "Great stuff... Really enjoyed it." — SFWA Grandmaster Michael Moorcock
Announcing ReAnimus Press
If you need help making ebooks from manuscripts or print copies—or finding great stuff to read—look no further! An ebook publisher started by your very own Critter Captain. (And with a 12% Affiliate program.) [More]
~~~
FEATURED BOOK
~~~
How Many Crits Can the Critters Ship, if the Critters Ship out Crits?
Recent # of crits per story. If you see one that looks lonely from this week, feel free to, y'know, have a look at it. (How lonely is lonely? Well, 15-20 crits is about average, so anything less is "below average".)
Last updated: Tue Mar 11 13:10:01 2014
Based on last critique filed at: Tue Mar 11 12:04:38 MDT 2014
This is updated hourly from 8am to 11pm. You may have to do a reload to get your browser to update the page. Count is of number of emails received for a story, and thus the actual count may be even lower (if there were email bounces, duplicates, etc.).
The manuscripts page (if you want to read one of these) is here.
Ms.# ... #crits
#23420 ... 9 April Blizzard, by A.R. Farryn (SF)

#23421 ... 24 No-Brainer, by Richard Zwicker (SF)

#23422 ... 1 Ugly, Chapters 7-11, by Russell Adams (F)

#23423 ... 14 Men of Iron, by Joe Walker (SF)

#23424 ... 10 The Last Song Champion - 9, by Tony Farnden (F)

#23425 ... 1 Cursed, by Galen Surlak-Ramsey (F)

#23426 ... 3 The Archangel of May, by Rebecca Lyons (F)

#23427 ... 16 Only The Whale Stands Between Me and England, by Douglas Kolacki (F)

#23428 ... 16 The Fourth Law of Robotics, by Charles Hand (SF)

#23429 ... 6 Shadow in the Empire of Light, Chapter 1, by Jane Routley (F)

#23430 ... 1 Ballads of Ealaidh: Resonance, by Jennie Brass (F)

#23431 ... 12 Phase II, by Frank Oreto (H)

#23432 ... 2 The Perilous Path, Chapter 1, by Wayne J. Harris (F)

#23433 ... 7 Persephone, Prologue, Chapters 1-3, by Ben Lacy (F)

#23434 ... 2 The Traveler, Chapter 1, by Gregory Sliwoski (SF)

#23435 ... 12 A Most Unsuitable Match, by Jason Loch (F)

#23436 ... 5 A1Z1: The Turning Chapter 1-2, by Cris Holder (H)

#23437 ... 6 The Mechanoid Cries Within, by Brock T.I. Penner (SF)

#23438 ... 3 Pawn of the Gods, by Andrea Franco-Cook (F)

#23439 ... 19 A Simple Line, by Sean fife (SF)

---