Captain's Blog
Critter Notices
[It's Freebie Friday in the
Critters Store
...]
Network speeding up
I'm switching the connection over to a new, shiny 10X faster network because of all the load. There might be bits of downtime as your boxes learn new addresses and things. Should be brief. Let me know of any prolonged outages you see.
Preditors & Editors Changeover
With the very sad passing of Dave Kuzminski, who ran P&E, I've taken over the P&E duties. Lots of what I hope are improvements; check it out at pred-ed.com.
Free Web Sites
Free web sites for authors (and others) are available at www.nyx.net.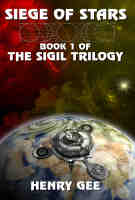 The Sigil Trilogy
If you're looking for an amazing, WOW! science fiction story, check out
THE SIGIL TRILOGY
. This is — literally —
one of the best science fiction novels I've ever read.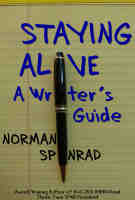 Stayin' Alive
If you want to make a career of SF writing,
STAYING ALIVE - A WRITER'S GUIDE
by three-time SFWA President Norman Spinrad, published by your Critter Captain's
ReAnimus Press
, is an indispensable guide to the inside workings of the SF publishing industry by an expert.
Critters Server is Dying has been Replaced
See important details here in my blog. Let me know if you find anything that isn't working right. (Manuscripts are now available for this week, FYI.)
Book Recommendation
THE SIGIL TRILOGY: The universe is dying from within... "Great stuff... Really enjoyed it." — SFWA Grandmaster Michael Moorcock
Announcing ReAnimus Press
If you need help making ebooks from manuscripts or print copies—or finding great stuff to read—look no further! An ebook publisher started by your very own Critter Captain. (And with a 12% Affiliate program.) [More]
~~~
FEATURED BOOK
~~~
E-book Optimal Pricing Survey
Background
As authors of ebooks, it's critical for us to know what is the best price to put on an ebook to maximize our income. If you double the price and sell more than 1/2 as many copies, you come out ahead; if you sell less than half you might lose money. Finding out which is best is clearly in your best interest.
This is thus a survey to collect data on how ebook prices relate to unit sales, called the "Elasticity of Demand." (Even if your goal is to build a reader base rather than maximize income, you'll still want to know how pricing relates to sales. Perhaps pricing something too low is actually harmful... the only way to find out is to analyze the data.) There's also the question of pricing vs. length for those who sell articles / short stories vs. books. This information doesn't seem to be available online — at least, I haven't seen it, so please point me to it if you have — thus I decided to collect it for our mutual information.
So please enter your last 6 months sales data. (Or shorter or longer if that's easier for you. The more data the better, but things have been changing so fast that data going back more than a year may not be relevant, so I want to cap it at a year, maximum.) What's important is that you report data from all your titles for the same period of time, even if they sold 0 copies.
Your data are entered anonymously and only include #copies/price/length, so there's nothing personally sensitive.
Thanks for your input!
If you want to elaborate on your thoughts or have other comments to make, please share them here.
[Take Survey | View Survey Results | Discussion Forum]
See Also:
What Can Publishers Do For Authors in a Mostly-ebook World?
Ebook Sales Curve Analysis and Future Projections — Ssssssss Hot!
Question to Readers — What's a Fair Price to Pay for Ebooks?
Axioms in the Future of Publishing — Planning Tips for Writers
Poll: What's the best book ever written?